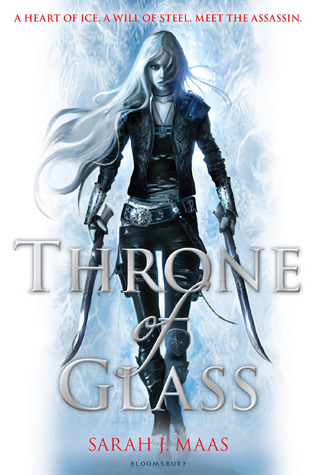 Title: Throne of Glass
Author: Sarah J Maas
Genre: YA fantasy
Publisher: Bloomsbury
Publication date: August 2012
Rating: 4/5
Synopsis from Goodreads: 
Meet Celaena Sardothien.
Beautiful. Deadly.
Destined for greatness.
In the dark, filthy salt mines of Endovier, an eighteen-year-old girl is serving a life sentence. She is a trained assassin, the best of her kind, but she made a fatal mistake. She got caught.
Young Captain Westfall offers her a deal: her freedom in return for one huge sacrifice. Celaena must represent the prince in a to-the-death tournament—fighting the most gifted thieves and assassins in the land. Live or die, Celaena will be free. Win or lose, she is about to discover her true destiny. But will her assassin's heart be melted? 
This read was a reread in preparation for the upcoming release of Kingdom of Ash. This was the first time I have reread this book although I have reread later books in the series multiple times. The first time I read this book I had not read The Assassins Blade yet. However as you will know if you have seen my review. This time around I have the background knowledge that those novellas provide. And let me tell you it is a whole different experience with that knowledge.
I was able to understand subtleties in the plot a lot better and certain references and or wording hit me right in the feels! I was able to understand Celaena's thoughts, actions and emotions a lot better now knowing her background. It made it a lot easier for me to feel all of her ups and downs along with her. All of which made the overall reading experience that much better.
Just like the first time around I think the concept of this book and the plot line is great and one big adventure. Although I much prefer the action scenes, the contest, and fighting etc. I think showing Celaena developing friendships and enjoying clothes, and sweets and gifts make her a more in depth believable character. I also am a sucker for romance as I have said many a time before. So that part of the plot for me just added to the story.
Celaena, Nox and Dorian are my favourite characters in this first novel. And any interaction between these characters were some of my favourite to read about. I think the world building of this story is done quite well. It doesn't feel like a complete info dump, but more like you are finding things out with celaena and as you need to.  Having said this though there are many characters in this book and many names and I still sometimes need to stop and think a bit harder about who's related to who and what their role in the story is etc. Given that I generally read for escape and fun this is slightly annoying but not enough so to put me off the story.
Overall, I rather enjoyed this reread. This is one of my favourite series and I really enjoy the world and the story. Some of the characters I absolutely adore, and it just has me wanting to rush into rereading the next books to spend more time with them. The only reason that this is not a 5 star read for me is because I know it is not my favourite of the series as well as the whole many names issue. Therefor a solid 4/5 and would recommend if you have not given this series a go yet. 
Have you read this series yet? Who are your favourite characters in the first book? Did you read this one before or after Assassins blade? Let me know in the comments below! As always happy watching and reading!