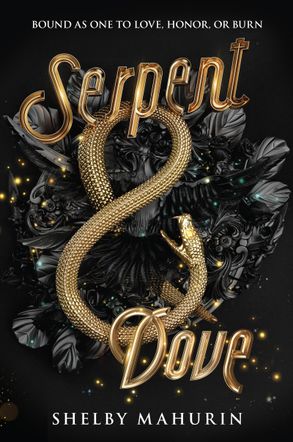 Title: Serpent & Dove
Author: Shelby Mahurin
Genre: YA/NA Fantasy
Publisher: HarperTeen
Publication date: 3 September 2019
Rating: 5/5
Synopsis from Harper Collins Australia: 
Bound as one, to love, honor, or burn. Book one of a stunning fantasy duology, this tale of witchcraft and forbidden love is perfect for fans of Kendare Blake and Sara Holland.
Two years ago, Louise le Blanc fled her coven and took shelter in the city of Cesarine, forsaking all magic and living off whatever she could steal. There, witches like Lou are hunted. They are feared. And they are burned.
As a huntsman of the Church, Reid Diggory has lived his life by one principle: Thou shalt not suffer a witch to live. But when Lou pulls a wicked stunt, the two are forced into an impossible situation—marriage.
Lou, unable to ignore her growing feelings, yet powerless to change what she is, must make a choice. And love makes fools of us all.
Set in a world of powerful women, dark magic, and off-the-charts romance, book one of this stunning fantasy duology will leave readers burning for more.
---
*Thank you to Harper Collins Australia for sending me a finished copy of this book in exchange for my honest review*
I loved this book. I Loved This Book!
And again for the people in the back: I LOVED THIS BOOK!
That would be my very quick short review.
But you know me I love a ramble so lets get into why I loved this book. The first thing is the writing itself I mean what a debut! I was enthralled from page one, could not put it down! I was hooked even when the plot itself slowed down from time to time I still just wanted to know what would happen next and the feelings the writing invoked! I mean I laughed, I gasped, I cried this book and the writing really did make me feel it all.
Secondly I loved the bad ass women characters and the strong female friendship in this! I loved it! I love that we are getting more strong, brave, smart, talented, unconventional, out of the box from societies norms main female characters! and Lou and coco are just some of the best! No competition just support and raising each other up like the queens they are!
Also witches and the witchey vibes! My gosh, you all know that vampires will always hold my heart but witches are really giving them a run for their money this year and this book was no exception! Loved the dark undertones, the different types of witches and hearing about the law and how witches were treated in this time period. I loved that Lou's magic always required an equal price and the patterns show up as gold threads.
Last but not least and actually my favourite thing about this book is the enemies to lovers romance trope, the forced marriage trope and the will they wont they slow burn that this was! It was so good the way Lou and Reid acted around each other and how this developed and changes over time with and without them realising.
Also Ansel is a precious bean and too good for this earth! The plot was great and had so many twists and turns that I did not see coming! I absolutely can not wait for book 2!
In conclusion, I actually loved this book and it has taken the spot for my favourite book of the year so far! There is not one thing I can think of right now that I personally didn't like about this book. 100% do recommend if anything I have said above even slightly intrigues you. This book is hands down a 5 out of 5 stars from me.  
Have you read this one yet? What did you think? What are some of your favourite witchey reads? Let me know in the comments below! Until next time happy watching and reading!