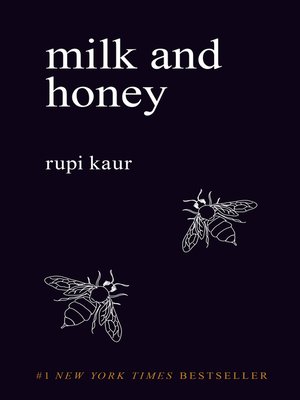 Title: Milk and honey
Author: Rupi Kaur
Genre: Poetry
Published: 8 July 2016
Publisher: Andrews McMeel
Rating: 3.5/5
Milk and Honey by Rupi Kaur is a collection of poetry divided into four sections. Each section dealing with a different theme. I found this to be quite a quick and easy read at only 208 pages. In fact I smashed it out in less than one day! The cover design is simple but STUNNING. I love the bees! the way the poems themselves are set out in the book are equally as stunning especially with the illustrations hand drawn by Kaur herself scattered throughout (double the talent!).
The four chapters/ sections are labelled: the hurting, the loving, the breaking and the healing. Consequently the themes of the poems for each section centre around these headings. This was another book I picked up having seen all over bookstagram with everyone raving about it. For me the hype both was and wasn't justified.
This is because even though I LOVE the cover design and think the entire book is composed beautifully, I could not personally relate to the themes of many of the poems. Hence why this was not a 4 or 5 star read for me. This is not to say that I hated the collection of poetry or did not enjoy reading it! Like I said I smashed through this! Not only because of the way its set out but because even though I did not necessarily relate to them all I thought all the poems were beautifully written. You can tell that they came from the heart and soul of Kaur and that even if they do not resonate with you that they would with someone else.
Having said this there were a handful of the poems that did resonate with me. When I read these particular poems I got a real sense of wow or wanting to think deeper on the topic. I got a feeling like ok I am not the only one that feels this way or thinks these things! I also despite not being able to connect with most the poems thought to consider myself lucky that I could not. As a lot of them deal with some quite dark/heavy topics that I wouldn't wish on anyone.
Overall I think the Aesthetic of this book is beautiful, the way it is written is beautiful and the concept is beautiful. However due to my own life experiences many of the poems did not resonate with me which is why I am giving Milk and Honey a rating of 3.5 out of 5.
Have you read this poetry collection? What were your thoughts? Any other poetry recommendations? Let me know in the comments below! Until next time happy watching and reading.