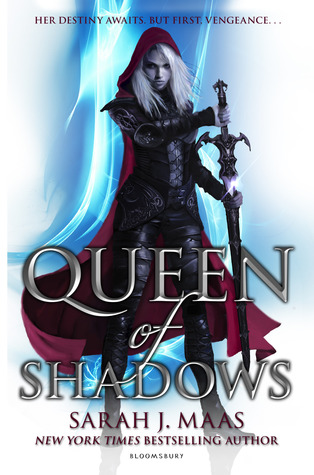 Title: Queen of Shadows
Author: Sarah J Maas
Genre: YA fantasy
Publisher: Bloomsbury
Publication date: September 2015
Rating: 5/5
Warning the synopsis contains mild spoilers if you have not read the previous books in this series! Read at your own risk! 
Synopsis from Goodreads: 
Everyone Celaena Sardothien loves has been taken from her. But she's at last returned to the empire—for vengeance, to rescue her once-glorious kingdom, and to confront the shadows of her past . . .
She will fight for her cousin, a warrior prepared to die just to see her again. She will fight for her friend, a young man trapped in an unspeakable prison. And she will fight for her people, enslaved to a brutal king and awaiting their lost queen's triumphant return.
Celaena's epic journey has captured the hearts and imaginations of millions across the globe. This fourth volume will hold readers rapt as Celaena's story builds to a passionate, agonizing crescendo that might just shatter her world.
Just a warning in advance that this review is very fangirling I couldn't control it, I just had to spew my feelings all over the place haha!!
So this is My 5th review for my reread of this series in preparation for the final instalment: Kingdom of Ash. If you missed my previous reviews I also reviewed Assassins Blade, Throne of Glass, Crown of Midnight and Heir of Fire.
I absolutely love this book. Every time I read it I enjoy it. If Heir of Fire was the book of character development then this book is where that development continues, but also so many more plans, consequences and actions arise from the development that has occurred.
I feel the action and scheming really ramps up in the series in this book and I am LIVING for it! Practically right from the get go every character has their own agendas and plans, and it leaves the reader enthralled. Wondering who may come out on top the "evil" character or the "good" ones. Not only that but where are these morally grey characters going to fall? What roll will they play? Who's side are they on? There are so many twists, turns and unexpected moments in this book and even though I expect them and know they are coming now, they still leave me with so much adrenaline and emotions!
Although I hate that a certain Fae prince is absent in the first part of this book and I feel that emptiness as much as a certain Queen. I love that our MC has some time to Scheme on her own and show her strengths as a solo person. I love reading about the first mission occurring and everything our MC manages to do! The reunion between the two cousins is everything! I mean how cute, how much love amazing!
But speaking of reunions, the one between said Fae prince and Queen is absolutely everything! EVERYTHING I TELL YOU!!! If that scene doesn't give you all the feels, what are you some stone heart monster? But seriously tears in my eyes so good! I love watching this particular relationship develop even more and the effect it has on their individual character growth.
And how could I talk about this book without mentioning my main girl the amazing Manon Blackbeak!!! I love how much more page time her and her 13 have in this book. I love her character development it makes me love her even more! And we find out so much more about her past and other members of the coven's pasts! I also enjoy that her chapters give us a look into the workings of the "enemy". This woman and the 13 deserve their own spin off series they are that bad ass and entertaining!
The ending of this book is so dramatic and so emotional even though our emotions have already been dragged through so much throughout the entirety of the book. I mean now that I have read Assassins Blade all of those Sam scenes hit my straight to the heart and opened up wounds that have not yet healed!  I really do think this book has one of the best endings of the series! Almost as good as the Crown of Midnight ending! And I live for the emotions and DRAMA!!
In conclusion this book really amps up the action for the books to come. The characters growth and development is fantastic and really pushes the story forward. I really did not feel like there were any boring parts in this story and so many things happen and change that it really sets up some nice new trajectory for the rest of the series. Therefore, this book was another 5/5 read for me!
Have you read this book? Are you rereading any of the books before the release of koA? Would you choose to be fae, witch, magic user or human? As always happy watching and reading!