Hello again beautiful people! What have we all been up to? What are you reading watching? Today I bring you another tag. This one however speaks to my soul!! As next to reading my favourite hobby is watching TV/Movies hence the blog. So this is the Netflix book tag. I am not sure of the original creator but I was tagged by Lexie at Reading in the wings. So let's grab some popcorn and some cozy blankets and get started! 
Recently Watched: The last book you finished reading.
Well it's only a novella not a full book but A court of Frost and Starlight by Sarah J Maas. You can see my review here if you're interested. 🙂
---
Top Picks: A book that has been recommended to you based on books you have previously read.
Being a big fantasy reader and YA reader many of the books I read are recommended in the way they are grouped together at the book store. Or because I follow a lot of readers who also read fantasy if I see them talking about a book and they have liked books I have loved then I usually will give it a go. So I can't really pick just one!
---
Recently Added: The last book you bought.
 The book I most recently brought and my current read is Red Rising by Pierce Brown.  I am actually loving it so far and am wondering how it went below my radar for so long?!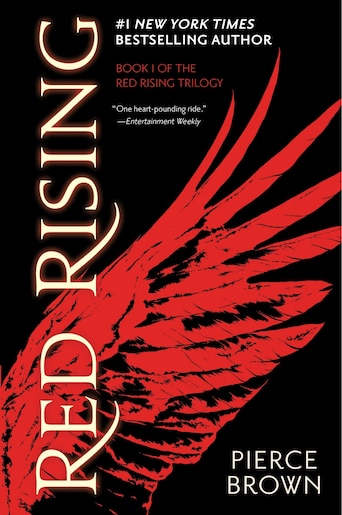 ---
Popular on Netflix: Books that everyone knows about. (2 You've read and 2 you haven't read or have no interest in reading.)
2 I have read:
The Mortal Instruments by Cassandra Clare
Nevernight By Jay Kristoff
2 I am yet to read:
Crooked Kingdom by Leigh Bardugo. (I do mean to read this I know it's going to be great I just am not ready to let go of those characters yet).
Lord Of Shadows by Cassandra Clare. I own this, it just took me so long to get through Lady Midnight. I am just not sure if I want to continue.
---
Comedies: A funny book.
Honestly I haven't really read a book that's supposed to be funny the entire way through. So I don't have a specific book for this. Many of the books I do read though have some characters who do or say things that have literally made me laugh out loud! 🙂
---
Dramas: A character who is a drama queen/king.
This tag is quickly revealing how much I am Sarah J Maas trash. But if Rhysand isn't the biggest drama queen you have ever met than you must be yet to meet him! That boy's love for dramatic entrances/ reveals alone is enough to give him the crown! hahaha.
---
Animated: A book with cartoons on the cover.
I don't really own any books with what I would call cartoons on the cover. But I guess the Harry Potter books I own kind of do? They are illustrated at least. Does that count?
---
Watch it Again: A book or series that you want to re-read.
I have said it before and I will say it again. I am a huge re-reader I love to reread my favourites all the time! And Love to re-read just before a new instalment in a series comes out. I have had the urge recently to reread the Throne of glass series by Sarah J Maas. However I want to wait till closer to the release of the final book even though I am yet to read Assassin's Blade or Tower of Dawn. 
---
Documentaries: A non-fiction book you'd recommend to everyone.
I am not going to lie I very rarely read non-fiction books. I mostly read to escape or relax so non-fiction isn't really my thing. I will say I did really enjoy Lauren Graham's book: From Gilmore girls to Gilmore girls talking as fast as I can.
---
Action Adventure: An action packed book.
Despite most fantasy books being packed full of some kind of action. The first book that came to mind for this is definitely Six of Crows by Leigh Bardugo. The fights, the scheming, the plotting, the violence. Just everything about the dregs LOVE LOVE LOVE!!
---
New Releases: A book that just came out, or will be coming out soon, that you can't wait to read.
My mind is almost completely blank right now on new releases that are coming out! I know of some later this year into early next year that I am very excited for. But have been so busy lately I haven't really kept track of ones coming out soon! I will say I am excited for One small thing by Erin Watt. It comes out June 18th. As although I read mostly fantasy I absolutely loved When its real and read it in almost one siting! And this sounds like another All the feels young love story. ❤
I Tag: Book Beach Bunny / Howling Libraries / Shelfish For Books / Windowsill Books
If you have already done this tag or don't do tags then as always please feel free to ignore! Otherwise I would love to see your answers! As always if you're not tagged feel free to do this tag and let me know your answers! 🙂
*note all book covers/ characters are property of the authors and or publishers by whom they were created.
Do you also love Netflix? Any recommendations? What have you binged lately? Do you agree with my answers? Let me know in the comments below! Happy watching and reading!